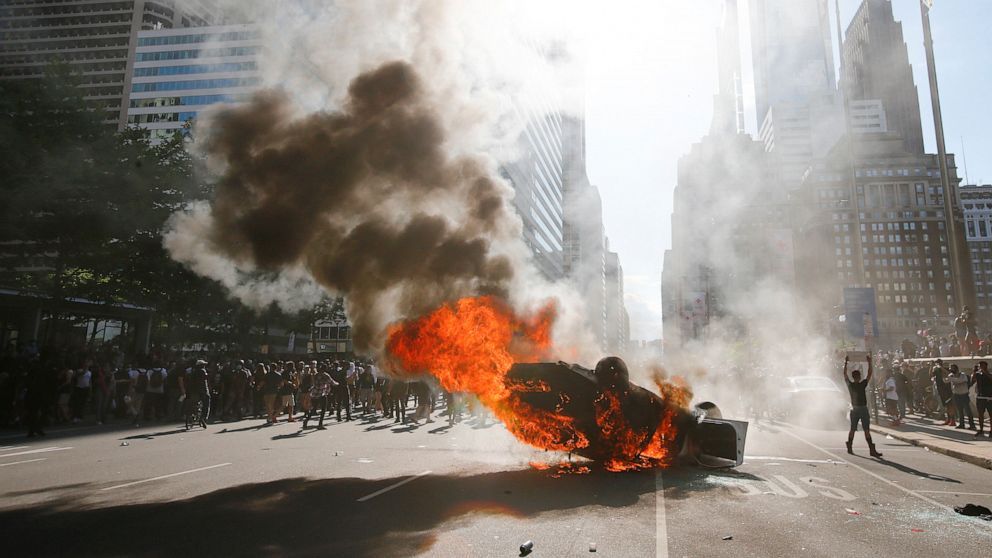 AT DON'S DOOR
50 Secret Service agents injured in White House riots as Donald Trump is taken to 'terror attack' bunker (Video)
https://www.thesun.co.uk/news/11752998/trump-secure-bunker-friday-george-floyd-protests-white-house/
There's way more i could post but these few give you the picture. It all took place before Jan 6,2020 while Trump was in his first term.
Their goal; get Trump removed from office Don't look at me. THEY said so..
You are here: Home » Prophecies » United States Prophecies » Deep State planning anti-Trump protests in 14 cities on November 4 2017
Deep State planning anti-Trump protests in 14 cities on November 4 2017
October 25, 2017 4:41 PM By James Bailey
Deep state funded protestors are calling for protests in 14 cities across the United States, beginning at 1:00 pm on Saturday, November 4, 2017. Their goal is to remove Trump from office by branding him as a fascist and blaming him for increased violence in our nation.
The November 4 protests are planned for the following 14 cities: Atlanta GA, Austin TX, Boston MA, Chicago IL, Cleveland OH, Honolulu HI, Los Angeles CA, New York City NY, Omaha NE, Philadelphia PA, Pittsfield MA, Portland OR, Seattle WA, and San Fransisco CA. (Source: Google Drive)
In the 4:44-minute video below, Antifa members in Carson CA carry a banner stating:
Remember the resistance? An organized movement to get Trump out of office. Hillary Clinton mentioned being a part of it.
Let's take a look at the other so called insurrection. How many rallies did President Trump hold long before Jan 6? According to Jill Calvin of the Associated Press (AP)
Out of those 350 rallies in how many of those did the Trump supporters riot or become destructive?
Give that some thought.
On Jan 6 the Capital breach started before Trump even finished his speech. The event was unfolding and as it was unfolding Democrats were already calling it an insurrection. The media was parroting that talking point. It's as if the narrative was already contrived. Didn't the FBI set up the Gov Whitmer kidnapping jplot just weeks before? You don't suppose they could have planned and set up the Jan 6 event at the Capital? Ask them about Ray Epps. CRICKETS. Ask them about the pipe bomber who didn't plant a bomb at all, except a fake one. Again,CRICKETS.
You can call Glenn crazy but even a broken clock is right twice a day. One thing i will say for Glenn; 9 times out of 10 he brings the receipts.
Guess who is being deemed a domestic terrorist now-anyone who questions the agencies of the government; that is, an agency like the FBI.
DHS issued a statement saying you may be a domestic terrorist if you "sow discord and undermine public trust in government institutions to encourage unrest, which could potentially inspire acts of violence."
Great timing wouldn't you say?
As for the Jan 6 Capital break in they call an insurrection it's worth noting:
none of the actors were armed-that's some insurrection
none of the actors were charged with insurrection
only 1 person was killed at the Capital building and she was unarmed [not posing a threat to anyone], Ashli Babbit
Speaker Pelosi and Mayor Bowser would not permit security for that day when Trump offered it. Look at what they put up at the Capital for the inauguration of Biden after Jan 6. Speaker Pelosi's Wall of Wire.The National Guard from several states was deployed to D.C. So it's not like the Speaker couldn't have done it for Jan 6.She knows darned well the hearings are not about an insurrection. It's such a lie. It's all about keeping Trump out of office. I've got news for her. We'll vote for him no matter what.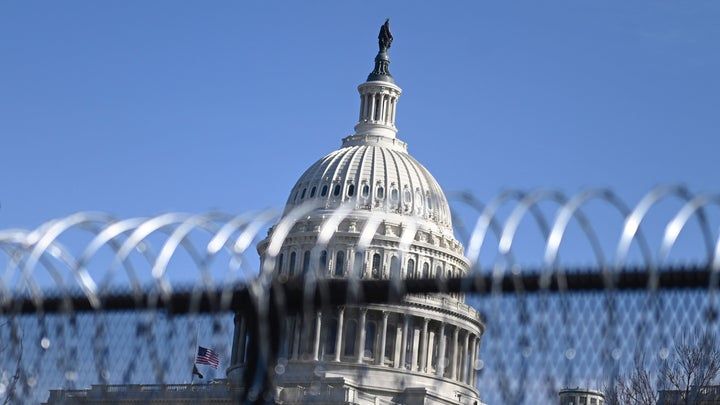 Pelosi's Wall of Wire